Teacher of the Month is back!
School is back in session! 98.5 WTFM along with Milligan University are bringing back Teacher of the Month!! Each month a different educator will pick up a well-deserved prize pack, including gifts from Sassy Lady Gifts, Diamond Exchange of Kingsport, Vision Quest Virtual Reality,  Knoxville TVA Credit Union, Magnolia Soap & Bath Company,  Horace Mann Insurance, Gina's Merle Norman Cosmetic's and Boutique of Elizabethton,  Abingdon Olive Oil Company and Barberitos Southwestern Grill & Cantina! Teacher of the Month, made possible by Milligan University, where quality and value matter!! Enter below to nominate your child's favorite teacher for our Teacher of the Month from 98.5 WTFM!

Enter here
* Denotes Required Field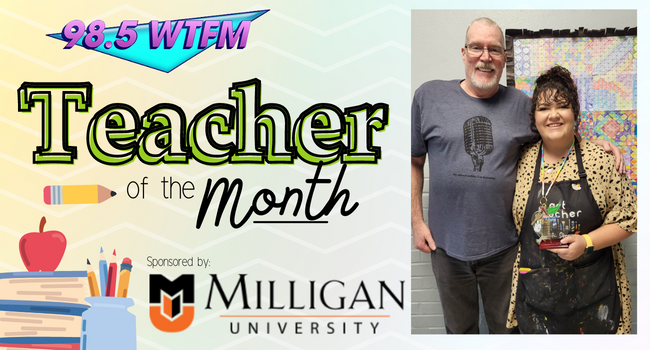 Our February "Teacher of the Month" is Mayson E. Skeen, K4 teacher at Mt. Carmel Elementary School!
Reason For Nomination:
Mayson started teaching August 2021 and she has made a huge impact in the art program at her school. She is young and full of new ideas and creative ways to learn about art and art history. She worked so hard to get her degree so she could share art with our new generations to come. She also spends her off time assisting high school coaches with girls softball. I would love to see her recognized for all she does for the kids and school.