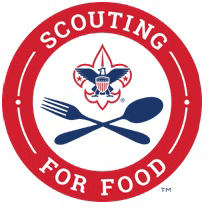 Sequoyah Council Scouts Hold Drive to Stock Local Food Bank Shelves
The Sequoyah Council, Boy Scouts of America is partnering with Food City, Second Harvest Food Bank of Northeast Tennessee, Feeding Southwest Virginia, and the residents of our region to fight hunger in Northeast Tennessee and Southwest Virginia during the annual Scouting for Food initiative.
Scouting for Food will take place February 5th – 12th. Local Scout Units and Food City will have donation drop off locations throughout Northeast Tennessee and Southwest Virginia.
Feeding Southwest Virginia and Second Harvest Food Bank of Northeast Tennessee report serving over 149,000 people with food insecurity right here in our region. This means these families were uncertain of having, or unable to acquire enough food to meet the needs of all their members. Every community in the country is home to families who face hunger, but rural communities are especially hard hit. Many of those families that will face food insecurity do not qualify for federal nutrition programs and rely on local foodbanks and other programs for support.
People in our region depend on drives like this to stock local food shelves and ensure they are always able to provide families with the food they need. Now more than ever, it is important to find safe ways to continue to partner with our local food banks to help those families with food insecurities.
The Scout Oath includes a promise to help other people at all times. Scouts in the Sequoyah Council live that promise every day, and we are proud to work with our neighbors to reduce hunger in Northeast Tennessee and Southwest Virginia.
Due to COVID Protocols, there will be NO door-to-door collections. Please visit the Scouting for Food website at SequoyahCouncil.org/SFF for a list of Food City and community partner drop-off locations.
Here are some ways to help Scouts fill the shelves of local food banks:
Donate non-perishable or shelf stable items like canned soup, meats, stews, fruits, vegetables, and milk.
Avoid donating things like perishable foods, frozen foods, glass containers, and home-canned items.
Shop Food City and place your donation items in the drop-off bins inside the store.
You can also take donations to one of our drop-off locations listed at org/SFF
Food Banks are always in need of items that are difficult to collect like milk, fresh produce, meat, and bread. You CAN help get these items to families in need by making a monetary donation. Cash donations allow food banks to buy perishables in bulk (for added savings and more product) and distribute them where the need is greatest. Donate money directly to local Food Banks on our Scouting for Food Website.