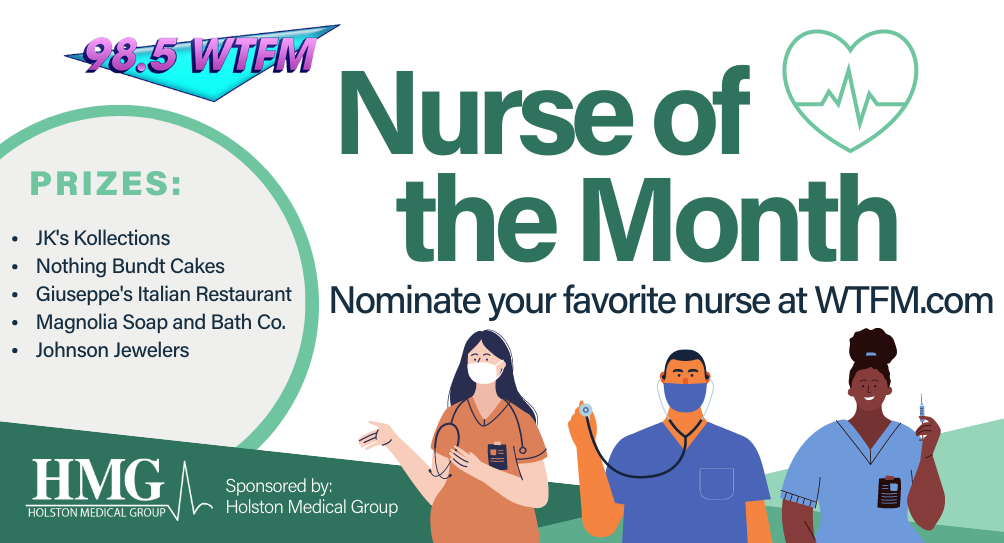 Do you know a nursing professional who goes above and beyond each day to help those in need? 98.5 WTFM and Holston Medical Group want to acknowledge all those medical workers who work long tiresome hours making sure all their patient's needs are met without question. Each month we will select a "Nurse of the Month" to pick up prizes from Colombian Coffee Exchange, Blue Bell Ice Cream, Mountain Song Jewelers, Nothing but Bundt, Buff City Soap, JK's Kollections, Blue Ridge Comedy Club and Johnson City Custom Framing.  Nominate that special nurse below to win "Nurse of the Month," from  Holston Medical Group and 98.5 WTFM!

Enter here
* Denotes Required Field

Our November "Nurse of the Month" is Lindsey Stafford of Johnson City Medical Center!
Reason for nominating: Lindsey is the true definition of a "nurse". She has worked at Holston Valley, Carilion Roanoke Memorial Hospital and Johnson City Medical Center as an ICU Cardiac Nurse. For several months she also worked the COVID unit at JCMC during the peak of the pandemic. Currently she works in the Cardiac Cath Lab at JCMC. She is dedicated to the job and has always empathethized with her patients. Patients and family love her. Phyicisians and coworkers love her. If you ever get to meet her, she will embrace you with a friendly smile and bear hug. I hope she gets recognized for her dedication to field and her patients. She has 1000% earned the title of a Nurse. Thank you for this opportunity!