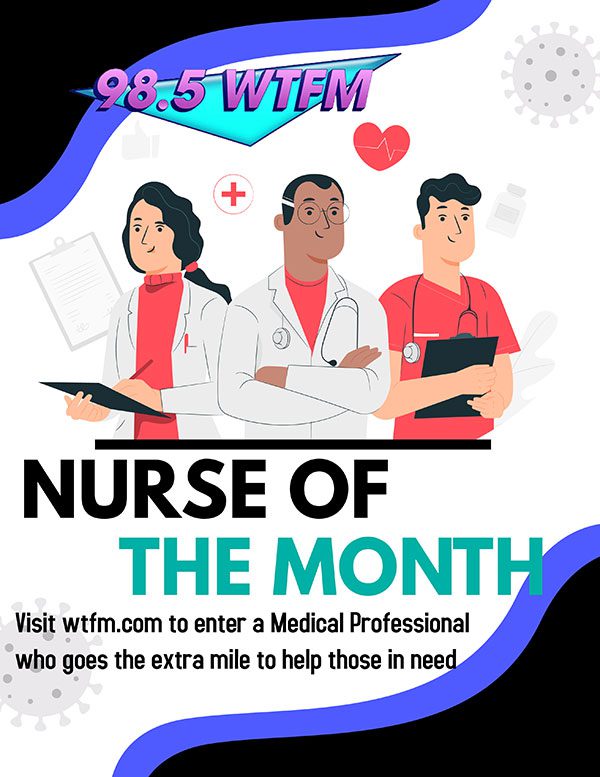 Do you know a nursing professional who goes above and beyond each day to help those in need? 98.5 WTFM wants to acknowledge all those medical workers who work long tiresome hours making sure all their patient's needs are met without question. Each month we will select a "Nurse of the Month" to pick up prizes from

Colombian Coffee Exchange, Blue Bell Ice Cream, Jonesborough Barrel House, Mountain Song Jewelers, Nothing but Bundt, Buff City Soap, JK's Kollections, Blue Ridge Comedy Club and Johnson City Custom Framing

.  Nominate that special nurse below to win "Nurse of the Month," from 98.5 WTFM!

Our November "Nurse of the Month" is Jennifer Kennedy, Maxim Home HealthCare
Reason for nominating: Jennifer is a home healthcare nurse for my daughter Savannah who was born extremely premature with a lot of health complications. My daughter is 3 years old now, but Jennifer has been her at home nurse since my daughter came home from the NICU. I cannot express what a blessing Jennifer has been to my daughter and our family. She goes above and beyond everyday to help meet our needs as a family and teaches and mentors Savannah even though she doesn't have to. She has truly became a part of our family and I don't know what we would have done without her over these past 3 years. I would love to treat her with this gift of "Nurse of the Month" as she truly deserves it.