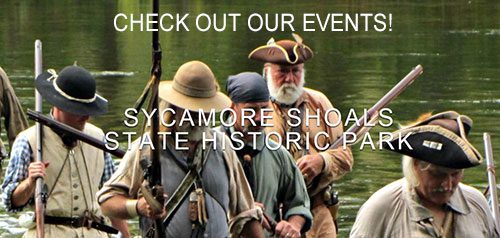 May 2023 – Programs and Events 
Sabine Hill Guided Tour      
Friday, May 26                                                                                               1:00 pm
Adults – $9.00; Ages 7 to 17 years – $5.00; 6 and under free
Tax included                                                                                                   Max:  12
Registration required – www.tnstateparks.com/parks/events/sycamore-shoals
Join Park Ranger Cory Franklin for a guided tour of this stately home built by Mary Patton Taylor, widow of Brigadier General Nathaniel Taylor. The site has been described as one of the finest examples of Federal architecture in the State of Tennessee. During your tour you will have the opportunity to take in the colorful and architecturally detailed interior while learning about the influential Taylor family who called Sabine Hill home in the early 19th century.
Sabine Hill is located at 2328 West G Street, Elizabethton, TN 37643
Please note, only portable toilet facilities are available at this time. Accessibility to the home includes steps and an interior staircase. Tour may be subject to cancelation in the event of severely inclement weather.
Bird Walk with the Lee & Lois Herndon TOS Chapter
Saturday, May 6                                                                                               8:00 am
Meet other birders and naturalists at Sycamore Shoals for a morning of birding during the migratory season.
Fellowship English Country Dancing
Saturday, 6                                                                                                      1:30 pm – 4:00 pm
Beginners and seasoned dancers alike are all welcome! The afternoon will include the opportunity to learn dances from different worldwide cultures.  No cost to attend. Open to anyone, with or without experience or a partner.  Meet in the Visitor Center.  Sponsored by the Sabine Hill Social Society.
Watauga Valley Art League Meeting
Sunday, May 7                                                                                                1:30 pm
All are welcome to join our area artists for their monthly meeting, highlighted by an art related presentation. 
Spring Knap-In at Fort Watauga
Saturday, May 27                                                                                            10:00 am – 4:00 pm
Knapping – with a "K"– has nothing to do with sleep!  Knapping is the art of making stone tools, and the Knap-In at Fort Watauga is our celebration of Tennessee Archaeology Week.  Watch primitive skills craftsmen make arrowheads, spear points and other survival tools.  There will be demonstrations of primitive tools such as a bow, arrow, and atlatl throughout the day.
Old Time Music Jam – Led by Art Lang
Sunday, May 28                                                                                              1:30 pm – 4:00 pm
Enjoy the rich musical traditions of our region each month.  Old time musicians of all levels are welcome.  Don't play an instrument?  Come on over, kick back, and enjoy the tunes!
"Never Forget" – Memorial Day Concert
Monday, May 29                                                                                            6:00 pm
Free Admission
Join us on Memorial Day as The Johnson City Community Concert Band, under the direction of Dr. Christian Zembower, presents "Never Forget" a special concert to remember and honor those who have paid the ultimate price for our freedom. In addition to the concert a special ceremony will recognize those, from the American War of Independence to the present day, who have fallen in the service of our country.
Presented in the Fort Watauga Amphitheater.
Visitors Center Hours:
9:00 AM – 4:00 PM Monday through Saturday             1:00 PM – 4:30 PM Sunday
Our Visitors Center is closed on most State holidays.
Park grounds are open from dawn until dusk.
In the event of extremely inclement winter weather, contact the park about program cancelations and park office closings.
Sycamore Shoals State Historic Park – 1651 W. Elk Avenue- Elizabethton, TN 37643
423-543-5808
sycamoreshoalstn.wordpress.com                            facebook.com/sycamoreshoals
tnstateparks.com/parks/sycamore-shoals       friendsofsycamoreshoals.org