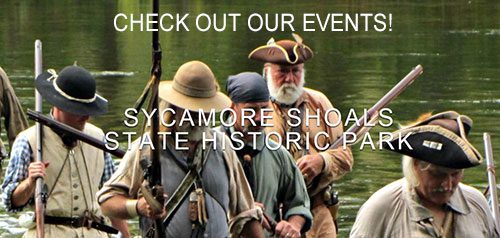 September 2022- Programs and Events
Creek Critter Catchin'
Thursday, September 1 10:00 am – 11:00 am
Admission – $5.00: Tax Included Max: 10
Pre-registration required – www.tnstateparks.com/parks/events/sycamore-shoals
Join Ranger Davis for a cool and refreshing walk through the waterways of the Watauga River and discover the different creatures that call it home! Please bring footwear that you don't mind getting wet or muddy, no flip-flops. You may bring your own catchin' tools if you'd like. Parents who wish to be present but not participate do not need to register. Program will be cancelled/rescheduled in the event of severely inclement weather or abnormally high water levels. All critters will be released at the end of the program. NO CHILDREN YOUNGER THAN 5 YEARS OLD.
Ranger Led Bike Ride
Friday, September 2 10:00 am – 11:00 am
Admission: $5.00; Tax included Max: 6
Registration required – www.tnstateparks.com/parks/events/sycamore-shoals
Join Ranger Davis for a ranger led bike ride from the park, up the Elizabethton Linear Trail to the Covered Bridge, then back to the park via the Tweetsie Trail. Total loop will be about 6 miles and take approximately one hour depending on the average ability level of the attending participants. Portions of the route will not be suitable for pull behind child carriers. Please dress appropriately for the weather, bring your own water and bike. Please meet in front of the Visitor Center. Program will be cancelled/rescheduled in the event of severely inclement weather. NO CHILDREN YOUNGER THAN 5 YEARS OLD.
Summer Music Jam at Fort Watauga
Friday, September 9 6:00 pm
Admission: Free
Join us for our second show in an ongoing series of music at Fort Watauga. The show will start at 6:00 pm at the amphitheater behind Fort Watuaga. Bring a chair (not required), bring a snack, we'll see you there! Music will be a wide variety of classic rock, country, bluegrass, and everything in between!
The Gathering at Sycamore Shoals
Saturday, September 10 10:00 am
Join the Tennessee Society Sons of the American Revolution at Fort Watauga in honor of the Overmountain Men and their victory over loyalist forces at the Battle of Kings Mountain. The 242st anniversary of the "Gathering at Sycamore Shoals" will be celebrated with a memorial service and a ceremonial wreath laying.
Fall Knap-In at Fort Watauga
Saturday, September 10 10:00 am – 4:00 pm
Knapping – with a "K"– has nothing to do with sleep! Knapping is the art of making stone tools, and the Knap-In at Fort Watauga is our celebration of Tennessee Archaeology Week. Watch primitive skills craftsmen make arrowheads, spear points and other survival tools. There will be demonstrations of primitive tools such as a bow, arrow, and atlatl throughout the day.
Watauga Valley Art League & Guest Speaker
Sunday, September 11 1:30 pm
All are welcome to join our artists for their monthly meeting, highlighted by an art related presentation. This month our presenter will be Jerry's Artarama.
Fellowship English Country Dancing
Sunday, September 18 1:30 pm – 4:00 pm
Beginners and seasoned dancers alike are all welcome! The afternoon will include the opportunity to learn dances from different worldwide cultures. No cost to attend. Open to anyone, with or without experience or a partner. Meet in the Visitor Center. Sponsored by the Sabine Hill Social Society.
Tech in Nature
Tuesday, September 20 1:00 pm
Admission – $6.00 (plus tax), 6 and under free
Tax included Max: 10
Pre-Registration required – www.tnstateparks.com/parks/events/sycamore-shoals
Today, most people are inseparable from their smart phones and mobile devices. We want to embrace this cultural change and show you how you can better use technology on a day-to-day bases in nature. Using tools such as GPS locating, plant identification, and other easily accessible resources and apps, we will show you how to enhance your experience rather than take away from it. Join Ranger Cory Franklin for a walk around the park to better understand the tools you carry with you daily. The program will meet and begin at the picnic area beside the visitor center.
Walking in Frontier Footsteps
Friday, September 23 12:00 noon
Admission: $6.00; 6 and under free: Tax included Max: 20
Registration required – www.tnstateparks.com/parks/events/sycamore-shoals
Join Museum Curator Chad Bogart for a special guided interpretive walk through the grounds of Sycamore Shoals and along portions of the walking path. Discover the historical events that took place surrounding Sycamore Shoals and their significance to the formation of our State and Country. Dress appropriately for the weather as we will be taking a casual stroll on the walking path and through the park grounds. Portions of the walk will include ground that may not be flat or solid for people with mobility challenges.
Meet in the picnic area adjacent to the Visitors Center.
Duration: 90 minutes.
OVTA Watauga River Crossing
Sunday, September 25 2:00 pm (approximate time)
Members of the Overmountain Victory Trail Association have recreated the historic march to King's Mountain since 1975. On September 25, marchers will cross the Watauga River at Sycamore Shoals, just as the Overmountain militia crossed 242 years ago.
Overmountain Muster at Sycamore Shoals
Saturday, September 24 10:00 am – 4:00 pm
Sunday, September 25 10:00 am – 4:00 pm
Join us for a weekend of living history demonstrations at the encampment of the Overmountain militia before the Battle of King's Mountain in 1780. Live some of the most crucial days of the American Revolution.
Old Time Music Jam – Led by Art Lang
Sunday, September 25 1:30 pm – 4:00 pm
Enjoy the rich musical traditions of our region each month. Old time musicians of all levels are welcome. Don't play an instrument? Come on over, kick back, and enjoy the tunes!
Cemetery Symbolism
Friday, September 30 7:00 pm
Admission: $8.00: Tax included Max: 15
Registration required – www.tnstateparks.com/parks/events/sycamore-shoals
Have you ever wondered about the meaning behind the artwork and symbols on old gravestones? Join Museum Curator Chad Bogart and spend an evening in the burial ground at the historic Carter Mansion. Learn how to translate the language of cemetery symbolism and how these images tell the stories of the deceased. Not recommended for small children. Program will begin in the Carter Mansion visitor center and proceed to the cemetery. The Carter Mansion is located at 1031 Broad Street, Elizabethton, TN 37643.
Duration: 90 minutes.
Visitors Center Hours:
9:00 AM – 4:00 PM Monday through Saturday 1:00 PM – 4:30 PM Sunday
Our Visitors Center is closed on most State holidays.
Park grounds are open from dawn until dusk.
In the event of extremely inclement winter weather, contact the park about program cancelations and park office closings.
Sycamore Shoals State Historic Park – 1651 W. Elk Avenue- Elizabethton, TN 37643
423-543-5808
sycamoreshoalstn.wordpress.com facebook.com/sycamoreshoals
tnstateparks.com/parks/sycamore-shoals friendsofsycamoreshoals.org